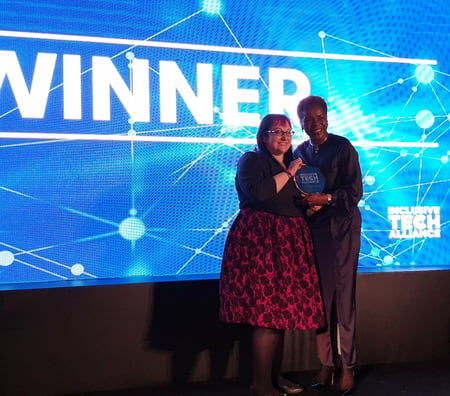 Held in London last month to shine a light on diverse leaders, rising stars and organisations that are helping to make the tech sector more representative, the Inclusive Tech Alliance Awards recognised some of the talent leading the way in the tech industry.
Speaking of her win, Nicola said: "I was completely overwhelmed to be named Diversity Champion of the Year amongst some incredibly talented and inspirational individuals operating within the industry today. Diversity is something that I feel very passionate about and I am keen to ensure that Titania leads by example."
As a mentor, coach, speaker and advocate for diversity, Nicola is well-versed in championing for change. With a 50% female Leadership Team and one of the most comprehensive benefit packages in the industry, Nicola prioritises the physical and mental wellbeing of her team, shaping an organisation which incorporates diversity and inclusion at all levels. This approach has proven pivotal to the success of its industry-leading Configuration Analysis solution, protecting organisations across nearly 100 countries.
Nicola is also the current holder of the UK Cyber Citizen award and was named by SC Magazine as one of the Top 20 most influential women working in cyber security. When speaking on diversity (and its benefits) she often uses her own life story to illustrate the challenges faced by neurodiverse women in the sector - challenges we need to overcome if we are to reduce 'groupthink' and reap the benefits of a diverse workforce (greater innovation, profitability and resilience).
Nicola is incredibly grateful and supportive of all who champion diversity and said: "I truly believe that increased diversity can help to address the issues that we are currently facing in the cyber security industry, offering a wider perspective from the top down. It's fantastic to see organisations like the Inclusive Tech Alliance (ITA) promoting this message, with many looking to raise the bar and realise change as we step into a new decade."
Big congratulations Nicola, from the whole team at Titania.
For more information about Nicola Whiting and the public work she does in cyber, psychology and diversity visit: www.nicolawhiting.com