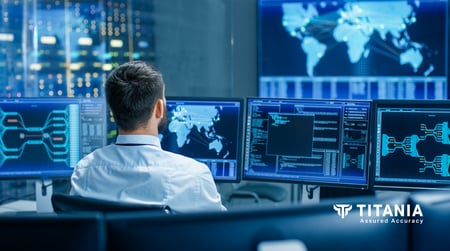 This week, Titania is proud to announce its latest partnership with the Cybersecurity Maturity Model Certification Center of Excellence (CMMC COE), hosted by the Information Technology Acquisition Advisory Council (IT-AAC).
This partnership will extend efforts to identify and include proven capabilities within the CMMC COE Marketplace to improve cybersecurity protection and resilience for the global defense industrial base network of contractors, vendors, and suppliers. Titania is a leading provider of cyber security solutions including Titania Nipper, which assesses the security of firewalls, routers, and switches, and has been utilized by all four arms of the US Department of Defense for over ten years to automate configuration audits for compliance with DISA STIGs.
Now, this Engagement Agreement establishes a collaborative partnership between Titania, the CMMC COE, and the CMMC COE EU to partner in the furthering of their respective and complementary missions and objectives regarding the adoption, use, and expansion of CMMC-based cybersecurity practices, risk management, and compliance for the DIB contractor, vendor, and supplier community of providers creating a broader CMMC ecosystem globally to improve security and resilience.
Specific actions will include:
The co-development of CMMC advisory services, cyber training, and education programs to accelerate CMMC certification, increase cyber adoption and improve cyber protection and resilience. Co-sponsor symposiums, training programs, and podcasts, leveraging their combined cyber and IT expertise.
Host regular working groups, with other partners, to enable collaboration and communications.
Source qualified CMMC/ cyber professionals to serve as advocates.
Establish an independent Industry Cyber Security Advisory Council with peer organizations to advise and educate leaders across government and industry on the continued evolution and effectiveness of CMMC.
In turn, this partnership will focus on bringing together cyber and national security communities to improve awareness and accelerate industry efforts to become more cyber resilient against growing threats.
Speaking of the partnership, Phil Lewis, Titania CEO said: "It's a privilege to be partnering with the CMMC COE and CMMC COE EU, demonstrating our mutual commitment to innovation and best practice.
"Through this partnership, we will be able to bring our accurate compliance assessment capabilities to companies requiring CMMC certification. Working together we can further our joint mission of increasing adoption of the CMMC framework and enhancing cybersecurity resilience in the defense supply chain, in both the United States and Europe."
John Weiler, Chairman of the Board at CMMC Center of Excellence said: "This is an exciting opportunity for us. This new partnership will further help advance the goals and objectives for improving the supply chain security and resilience of the US Department of Defense (DoD)".
For more information around CMMC compliance, click here https://www.titania.com/solutions/cybersecurity-maturity-model-certification/