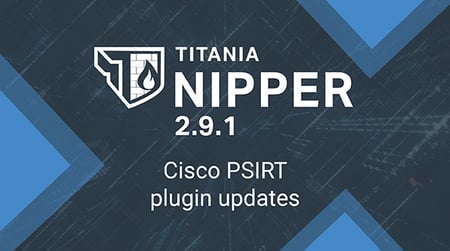 Nipper 2.9.1 focuses on enhancements to the Cisco PSIRT plugin and improvements in accuracy, stability and usability across several other report plugins and devices.
The PSIRT plugin within Nipper was designed to accurately identify known vulnerabilities in Cisco devices by cross-referencing risk databases. We regularly gather feedback from our customers, and feedback on Cisco device audits has informed the developments in this latest release. Nipper 2.9.1 enhances the PSIRT plugin to provide more valuable data for teams auditing Cisco ASA and PIX devices. The latest version provides greater accuracy of vulnerability detection across the different versions, resulting in time savings when auditing with the plugin.
Also included in the latest release are improvements for Fortinet device users. Teams auditing Fortinet devices now have improved administrative services detection for FortiGate and filter rule detection for devices running FortiOS 6.2. Also included in Nipper 2.9.1 is a FortiOS 6 demo, allowing evaluation license users to see how Nipper audits the newest FortiOS features.
Improved accuracy, usability and stability
We have made many improvements that will enhance usability with this latest release, including automatically removing vulnerabilities from the 'Conclusion' table when users exclude them from their audit. Nipper 2.9.1 also comes with improved stability on system-wide licensing, when changing email logging settings and when adding remote devices in audit scheduling.
Nipper 2.9.1 comes with updated National Vulnerabilities Database benchmarks so that users can be sure they are auditing their devices against the latest known vulnerabilities.
Read the full release notes here >
Glen Stimson