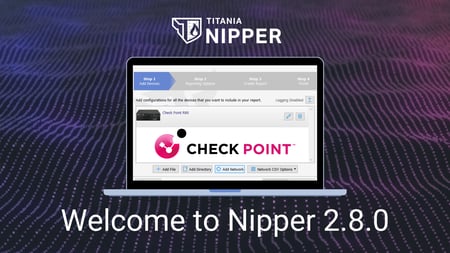 Titania Nipper 2.8.0 is now available for download. This new update delivers the ability to audit Check Point R80 firewalls using an entirely new plugin whilst ensuring the existing plugin for the prior versions of Check Point firewalls continues to run alongside.
Also included in this release of Nipper is the ability to audit Check Point R80 devices remotely without the need for first establishing SIC trust with the device. In addition, this release provides support for Check Point R80 clusters, devices with multiple gateways and the option to audit an R80 configuration as a manual file.
Download Nipper 2.8.0 to gain access to this new feature and to generate the following report types for your Check Point R80 devices:
Best practice security audit
Vulnerability audit
PCI DSS audit
STIG compliance
SANS policy compliance
Furthermore, this new update improves the accuracy in the security reports for Fortinet devices.
If you would like to see a demonstration of Nipper 2.8.0 please register for our Nipper Overview webinar.
Glen Stimson