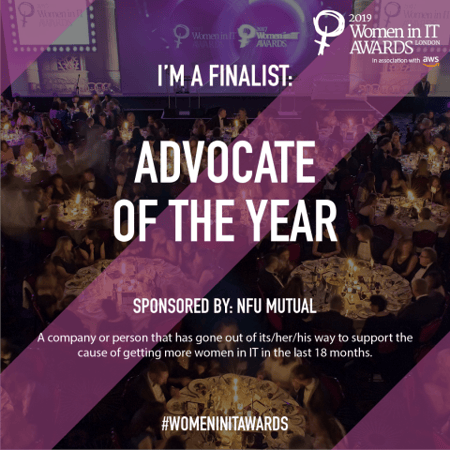 We're delighted to announce that our very own Chief Strategy Officer, Nicola Whiting is in the running to be crowned 'Advocate of the Year' at the prestigious Women in IT Awards 2019. Organised by Information Age, the awards series is dedicated to redressing gender imbalance by showcasing the achievements of women in the sector and raising the profile of new role models.
As someone who provides government-level advice on how to encourage and facilitate diversity, and writes and speaks regularly on the subject, Nicola is already a role model for many women working in cybersecurity – including those in her team here at Titania. Indeed, SC Magazine recently named her one of the Top 20 most influential women working in our industry.
Truly deserving of her place on this shortlist amongst other passionate champions of diversity – including Clare Stephens (IBM), Sian Allsopp (Morgan Stanley) and Deborah Flint (Accenture) – Nicola has dedicated much of her time to showing through science how:
Diversity can help solve the talent shortage within IT
Diversity increases business strength and resilience
Diverse companies are more successful:

bringing multiple ways of thinking and approaches to problem-solving
improving work output
One of Nicola's key successes, which features in her chapter in the best-selling book, Extraordinary Women, is championing 'Diversity through Positivity', writing:
"The cyber security industry is predisposed to focusing on the negative (it's how we find security holes). But we need a more positive outlook. We know there is a talent shortage, it's been well publicised - but people are realising that increasing diversity could help solve this."
Today's announcement comes hot on the heels of Nicola's 'Unsung Hero Award', presented to her in October in recognition of her Leadership & Mentoring work with cyber companies including; National Cyber Security Centre, Women in Business Network, Circle to Success, The Accelerator Network, Worcestershire Local Enterprise Partnership, and Worcestershire Chamber of Commerce.
Nicola explained to the team today what this announcement means to her:
"I am very honoured to be shortlisted for this award alongside my peers whom I respect and admire for their advocacy of diversity. There are many brilliant and diverse people employed in cyber – many of whom work behind the scenes. I believe it is imperative to highlight diverse role models (of all types), celebrating their successes and demonstrating best practice in supporting their needs, to be able to encourage more talented people into our industry."
Privileged to have Nicola at the helm - ensuring the business leads the way in having a truly diverse culture – everyone in the team here at Titania wishes her the very best of luck for the award, which will be announced on Wednesday 30th January at Grosvenor House in London… Whatever the outcome, she's already a champion in our eyes!
For more on Nicola's work and her upcoming speaking engagements, visit: www.nicolawhiting.com