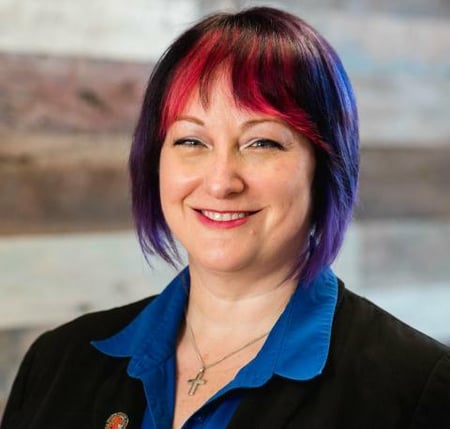 Titania Chief Strategy Officer, Nicola Whiting has been awarded an MBE for services to International Trade and Diversity in the Queen's New Year's honours list.
Nicola is an award-winning mentor who through her work with Local Enterprise Partnerships and government cyber accelerators, has contributed for many years to business growth both locally and nationally.
She served as Worcester's commissioner for the UK Cyber Science and Innovation audit and is a board member of multiple commercial and charitable organisations which drive innovation, growth and inclusivity. Nicola believes that business growth and diversity are inexorably linked and organisations that haven't invested in diversity are at risk of 'groupthink' (the tendency for similar people to generate similar ideas).
She says "Groupthink stifles innovation and is linked to poor quality, unchallenged decision making. Boards who are serious about innovation, business growth and resilience from risk, look at diversity not as a social exercise, but rather as a key success metric."
For those who know Nicola, this recognition may not come as a surprise, she has received significant recognition for her work in these areas in the past. These honours include the Sparky Baird Award for her work in A.I., the UK Cyber Citizen award and most recently, the Inclusive Tech Alliance Diversity Champion award.
With 1,097 people recognised on the list, 51% of which are women, Nicola is amongst esteemed company including numerous sports and media personalities. An incredible 72% of the honours issued were thanks to individual work in the community and we couldn't be prouder to see Nicola included.
Nicola said: "I'm overwhelmed to be awarded an MBE for services to International Trade and Diversity and incredibly grateful that the honours committee felt me worthy of such an immense honour. "Being recognised for work that I am truly passionate about is a fantastic way to start a new decade - it inspires me to continue to serve our local and national communities."
Congratulations, Nicola, from the whole team at Titania – it's a well-deserved honour. For more information about Nicola Whiting and her work around diversity and inclusion, visit: https://www.nicolawhiting.com/